The Royal College of Physicians, Regents Park, London
Come and join us at our premier CPD event for 2019. Building on the success of last years event, we have moved to an exciting new venue for 2019 – the award-winning Royal College of Physicians. The RCP offers a central London location, with Regents Park being only an arm's length away. Combine this with state of the art technology and an exceptional set of seasonal mouth-watering menus, we are excited to be hosting our Annual Conference at this Grade I listed building for 2019.
The day will be themed around People-Centred Security,
"The human dimension is the most important and least well-understood aspect of security. People are central to both the problems and the solutions."
Paul Martin CBE (head of precursor to CPNI 2004-7) in The Rules of Security: Staying Safe in a Risky World (Oxford, May 2019)
More details are to follow, along with a full itinerary to come your way. The event will finish with networking drinks hosted in the venue's stunning Osler and Long Room.
Concession tickets are available for SyI student members, corporate partners and new members who have joined the Institute in 2019.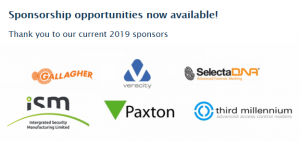 Email Jade@security-institute.org for more information on how you can become a sponsor of our 2019 event.