Page 5 - the SyI Quarterly 8
P. 5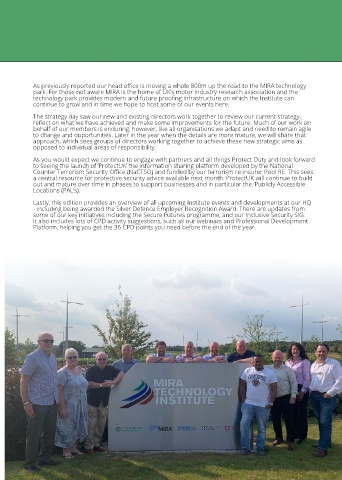 As previously reported our head office is moving a whole 800m up the road to the MIRA technology
             park. For those not aware MIRA is the home of UK's motor industry research association and the
             technology park provides modern and future proofing infrastructure on which the Institute can
             continue to grow and in time we hope to host some of our events here.

             The strategy day saw our new and existing directors work together to review our current strategy,
             reflect on what we have achieved and make some improvements for the future. Much of our work on
             behalf of our members is enduring, however, like all organisations we adapt and need to remain agile
             to change and opportunities. Later in the year when the details are more mature, we will share that
             approach, which sees groups of directors working together to achieve these new strategic aims as
             opposed to individual areas of responsibility.

             As you would expect we continue to engage with partners and all things Protect Duty and look forward
             to seeing the launch of 'ProtectUK' the information sharing platform developed by the National
             Counter Terrorism Security Office (NaCTSO) and funded by our terrorism re-insurer Pool RE. This sees
             a central resource for protective security advice available next month. ProtectUK will continue to build
             out and mature over time in phases to support businesses and in particular the 'Publicly Accessible
             Locations (PAL's).
             Lastly, this edition provides an overview of all upcoming Institute events and developments at our HQ
             - including being awarded the Silver Defence Employer Recognition Award. There are updates from
             some of our key initiatives including the Secure Futures programme, and our Inclusive Security SIG.
             It also includes lots of CPD activity suggestions, such as our webinars and Professional Development
             Platform, helping you get the 36 CPD points you need before the end of the year.